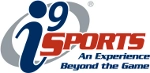 i9 Sports - Frisco and Plano
Save $15 on Summer & Fall Youth Sports!
i9 Sports
9201 Warren Pkwy, Ste 200 PMB 200, Frisco, TX 75035
Apr. 21st - Oct. 27th
Fun and Conveniently held 1-Day a Week, i9 Sports' recreational youth sports programs are perfect for busy families that want to play in a Fun 1st program.
We currently have Summer and Fall sports available in Plano and Frisco for kids ages 3-14 in Soccer, Basketball, Flag Football, Baseball, Tennis, and Volleyball.
Join a league or instructional clinic and see why i9 Sports is "The Way Youth Sports Should Be!"
i9 Sports - Save $15 on 2023 Summer and Fall Youth Sports!
Save $15 off Fun, Safe, Recreational, & Convenient Youth Sports. Register today for Flag-Football, Soccer, Basketball, Baseball, Volleyball, Tennis, and Athlete Development for all kids ages 3-14. Use Promo Code i9family to get this special deal!